---
---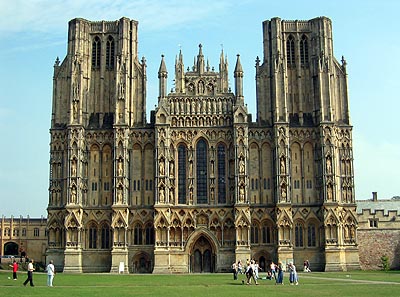 The West façade of Wells Cathedral
I never thought this day would arrive: in three hours' time, Dad will get me to the airport for the Palmer choir's trip to Wells, England. Thanks be to God I had the good sense to make up a packing list: the first time I've done so. That, along with a sane departure time from Houston, has made getting ready for this trip much-less stressful.As for my predictions for Harry Potter and the Deathly Hallows, here they are:
A lot of what follows is gleaned from the predictions and theories of others. I just happen to agree with them. Hopefully(?), I will do better than I did with my Half-Blood Prince predictions.
+ + + + + + +
http://www.nzherald.co.nz/section/6/story.cfm?c_id=6&objectid=10333960
The book will be dedicated to Jo's husband, Neil. The book will also be dedicated to Alice, who, after pestering him forever, was finally able to convince her father at Bloomsbury taking a look at Jo's first chapter was a good idea.
+ + + + + + +
"Deathly Hallows" = Godric's Hollow = the scene of the last confrontation with Voldemort
+ + + + + + +
Harry's last moments with the Dursleys ere he leaves for Bill and Fleur's wedding (which will take place without a hitch) will go pretty much the same, in a way, as his leaving began in Goblet of Fire: "Harry looked at Aunt Petunia, Uncle Vernon, and Dudley and said, 'Goodbye.' There was no reply."
+ + + + + + +
JKR: "You can't domesticate a dragon whatever Hagrid thinks. That's simply impossible. So no. He's got more sense. He might get a different pet at some point but I'm saying no more at this moment."
No, Norbert will not be Harry's pet. That honor will go to Fawkes.
+ + + + + + +
The "gleam of triumph" - Voldemort can touch Harry, but the tables are turned: Harry can now touch him. Unlike Dumbledore and (presumably) R. A. B., Harry will be able to destroy Voldemort's Horcruxes without injury.
Wish I'd thought of this before reading it somewhere…
+ + + + + + +
R. A. B. = Regulus Black
+ + + + + + +
http://today.msnbc.msn.com/id/19198385/
Well, well… It seems Wormtail will indeed pay back Harry's life debt - by directly saving Harry's life. Does he die in the attempt? No, but he dies later on.
+ + + + + + +
Horcrux: Hufflepuff's cup
Horcrux: Slytherin's locket
Horcrux: Ravenclaw's wand
Horcrux: Nagini
As for locations, I couldn't even begin to guess.
+ + + + + + +
How it will go down with Neville vs. Bellatrix: "Wazzup — B;|&H!!".
Yes, Neville will do in our dear, sweet Bella.
+ + + + + + +
Who dies (in addition to Mrs. Lestrange — everyone of any consequence not mentioned lives):
Hagrid
George Weasley
What's this?? No Voldemort on the list? That's right, folks.
+ + + + + + +
http://www.mugglenet.com/editorials/archive/
Somewhere in Mugglenet's Editorial section (late 2005?), someone speculates that Voldemort, ever trying to "fly from death" will get his wish: forever eluding the very thing he feared the most via his last bit of soul being devoured by Dementors whilst Harry looks on in horror.
+ + + + + + +
Snape lives but his fate after the books are done — as well as his true loyalty — is forever left to ambiguity, thereby ensuring the continued existence of Snapecast for eternity.
+ + + + + + +
Many Death Eaters escape in the end, leaving Harry and pals to carry on after the books, tracking them down. — Let the fanfiction begin anew!!
+ + + + + + +
http://allday.msnbc.msn.com/archive/2007/06/08/217942.aspx
I have to agree with the folks here: the dragon is indeed Norbert, it's the last scene in the book, and they are literally flying away into the sunset.
http://www.accio-quote.org/articles/2001/0301-raincoast-interview.html
+ + + + + + +
Hermione will, in time, become Hogwarts Headmistress.
+ + + + + + +
Ginny and Harry will marry as will Ron and Hermione.
+ + + + + + +
There will be wedding bells for Argus and Dolores.
+ + + + + + +
As for the real reason I am going to England, this is the biggest trip the Palmer choir has ever taken. Staying at a single place to do a residency at one of the great cathedrals of the world is remarkable, to say the least. How lucky I am to have the opportunity!
Take care, everybody. See you on the other side.
Jeff
---
---